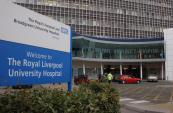 By: The Royal Liverpool and Broadgreen University Hospitals NHS Trust
5 tonnes CO2e per year (Estimated)
Syringes are used in their billions. Individually they may not be an obvious candidate for improving the sustainability of healthcare but collectively they can make a huge difference. In this case study we look at reducing green-house gas emissions and material waste by procuring newly released 'green' syringes. We also look at how new prefilled syringes might save money and promote social sustainability by avoiding harm and improving quality of clinical care.
The setting was The Royal Liverpool and Broadgreen University Hospitals NHS Trust (RLBUHT). The Trust is committed to sustainability, regeneration and corporate citizenship.[1]
The Trust provides a full range of medical, surgical, diagnostic, rehabilitation and therapy services, to the local population in Liverpool. The Trust consists of 3 hospitals; the Royal Liverpool, the Liverpool Dental Hospital and Broadgreen Hospital.
RLBUHT is a teaching Trust with established links to both the University of Liverpool and John Moores University. RLBUHT employ 5,600 directly contracted staff and over 650 staff in hosted or contracted services such as catering.
[1] http://www.rlbuht.nhs.uk/About%20Us/Documents/RLBUHT_Volume%201%20OBC_Apr%2010.pdf
Commitment to green procurement